10 /
29
2013
You can search for videos or users using the search feature in FC2 Video.
You can also use the Search Filter to perform more detailed searches.
*Please note, this functional is only available to Premium Members.
Learn more about becoming a
FC2 Video Premium Member Here!


If you wish to exclude a particular word from a search, use the minus - (hyphen) sign.
e.g. To search for "dogs" but exclude "chihuahua"
Enter [ dogs -chihuahua ] in the search box.
Use Filter (Old Version)
You can revert to the old version of the search filter and change settings there if you wish.
Simple version (old).
----------------------------------------------------
Filter type:Order
- Change search results order by New, Rating, Vies, Album Registrations, Length, or Total Play time.
Video Length
- Designate video length
Privacy Settings
- Designate privacy settings (All, member only, friend only)
Category
*The displaying categories are different in General section and Adult section
Detailed version. (old)
----------------------------------------------------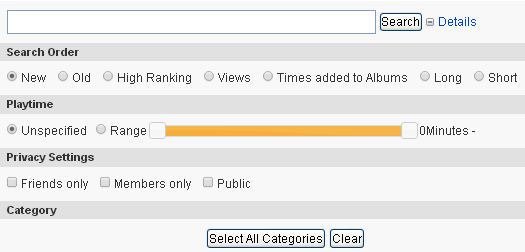 *Premium Members can use these filters (except change the number of videos displayed).
Become a premium member?