09 /
16
2014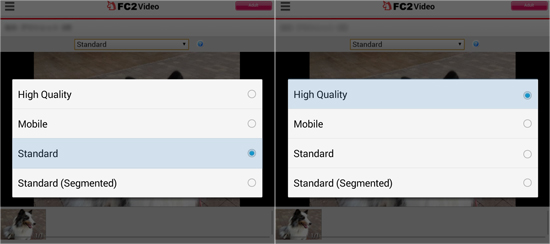 Free members:
The following three methods are available to free members.
Flash player (HQ off)
Play videos that have not been segmented in a FLASH player.
*Viewing may be affected depending on server connection and access numbers.
If viewing in a Flash player isn't going well, try one of the following,
Standard (Segmented)
Select and play individual segmented videos.
Standard
Play segmented videos consecutively.
Premium members:
There are 3 extra viewing methods available to premium members.
Flash player (HQ on)
Play HQ non-segmented videos in FLASH player. The HQ button will turn red when on and can be turned off at anytime.
If you want to the video to load faster, turn off HQ.
HQ mode
Watch HQ videos in a HTML5 player.
Mobile
Play videos in HQ that have been converted for smartphone viewing. Loading of HQ videos may take a while longer than other videos.
*If your FLASH player does not run properly, please try the other playing methods.
If you try to watch segmented videos on an Android device with Google Chrome through FC2 Videos,
a message saying "This site is trying to download multiple files. Continue?" may appear.
If this message does appear, click Continue and the videos will stream as per usual.
This is a feature that was designed for Google Chrome, but you can avoid this by using a different browser.